Christmas Party Security Door supervisors are used mainly by the licensing trade in pubs, bars, entertainment venues, nightclubs and late night establishments. However, it is not unheard of for restaurants, hotels, take away food establishments and even taxi ranks to use door supervisors. We provide Christmas Party Security in Warrington, Manchester, Liverpool, Merseyside, Cheshire, Greater Manchester, North Wales, North West England, Derby, Leeds, Newcastle, Birmingham, Bristol, London, and across the UK.
Our approach begins with training and courtesy! Gone are the days when doormen where referred to as bouncers. Gone is the bomber jacket and skinhead image.
We have opted for a more professional looking door supervisor, who can display:
Great customer care
Open relaxed posture
Non aggressive body language
Approachable manner
People skills and good customer management
Door supervisors have to adhere to the industry's extensive training and vetting procedures before being able to apply for a Security Industry Authority (SIA) license. Spartan Event Security ensures that all Christmas party door Supervisors work in accordance with BS7960:2005 for Door Supervisors. All Door Supervisors are vetted & screened in accordance to BS7858:2006.
All door supervisors must by law be trained and licensed before they can work. Door supervision work is now a recognised career with qualifications recognised by Skills for Security, City and Guilds and the British Institute of Innkeepers.
Our Christmas party security staff are trained to meet both our own standards and also the requirements of the Security Industry Authority.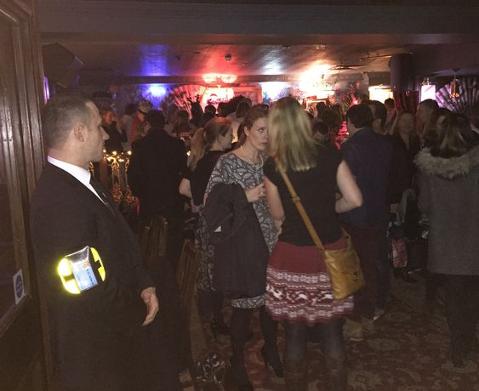 Spartan Event Security provide Door Supervisors for Pubs, Nightclubs,

and Events

Door Supervisors are SIA badged, fully insured, screened

and vetted
Warrington Christmas Party Door Staff have a positive attitude, flexible, reliable, with a great deal of common sense
Manchester Christmas Party Door Supervisors are hand picked, mature and highly experienced individuals - Have a high standard of presentation, excellent written and verbal communication skills
Door Staff are first aid trained and have attended a three day first aid at work course which is HSE approved and certified