Spartan Event Security provide smart, professional, SIA licenced Event Security Staff for receptions, parties, product launches, and more. Our well-managed Door Supervisors will make your event run smoothly by controlling access, meeting and greeting your guests, maintaining safety and good order and allowing you to concentrate on the event itself.
Hire our professional SIA licenced Event Door Supervisors for: Conferences, Product Launches, Christmas Parties, Gala Dinners, Sales And Marketing Conferences, Sports Events, Private Events, Cascade Road Shows, AGM Productions, Award Shows, Exhibitions, Celebrations. Event Security Services in Warrington, Widnes, St Helens, Liverpool, Manchester, Cheshire, Merseyside, Greater Manchester, North West England and North Wales.
A private event can relate to a wedding, private party or fashion show. It can be hosted at home or at an external venue such as
a hotel, anywhere in the world.
High profile events invariably attract a multitude of high profile figures all of whom value the service of a well organised and professional security team.
The meet and greet, secure parking and coordination that comes with a well organised event always enhances the guest's experience.
Event Security Staff will be selected for their presentation and interpersonal skills. Dressed to compliment the style of the event, they will operate in a high profile or subtler presence as dictated by the party planner.
Door Supervisors are:
Uniformed Door Supervisors.
Vetted Event Security Operatives.
Self Defence trained.

CRB checked.
SIA licenced.
Reliable, Punctual, Polite.
Work well as a team.
Mature, Experienced, Trustworthy.
Able to look after your property, staff, and customers.
First Aid trained.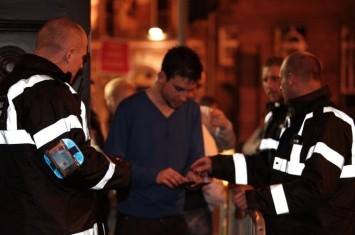 Our Event Security Services include the following specialisations:
Safety Stewarding
Our role is to maintain high levels of public safety at your event (typically a sporting event, concert or festival) in full compliance with industry best practise and in line with your Safety Certificate. We maintain NVQ Level 2 trained and highly experienced teams of stewards – all of whom have excellent track records gained in a wide variety of venues.
Search
Our search teams can sweep a venue prior to your event, perform searches on persons entering and/or respond to suspicious circumstances as they arise. We have human, technical and canine search capability, and our emphasis is always on efficient, thorough and expert performance.
Corporate/VIP Services
If your function is host to VIPs or you need to give your guests an occasion to really remember, then we can deliver. Smart, polite, courteous and efficient, our security officers can perform meet/greet, front of house and secure escort roles.
Private Functions
Receptions, parties, product launches, and more... our well-managed security staff will make your event run smoothly by controlling access, meeting and greeting your guests, maintaining safety and good order and allowing you to concentrate on the event itself.
Public Safety/Control
Events which are open to the general public or which are held in open space offer particular safety and security challenges to the organiser. We are able to bring years of stewarding, marshalling, safety and security expertise to make sure your event goes smoothly and professionally.
Car Park Management
The orderly management of parking facilities is critical to getting your audience in on time and away smoothly post-event. Our car park marshals take away all the headaches associated with the inward and outbound flows of vehicles.
Festivals
Festivals are fantastic events, much loved by the public – but often criticised for poor stewarding. We are proven professionals in festival security and stewarding and can help in your planning and implementation phases as well as delivering fast, efficient and safe processing of visitors throughout your event.


Copyright Spartan 24 Hour Security 2017